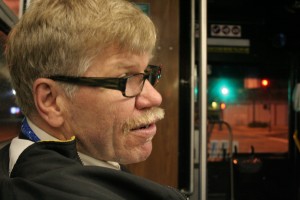 AC Transit passengers come from all walks of life. Some ride our buses to school in the mornings, while others ride home from San Francisco in the evenings. Others use our buses to get to parties -- even sometimes partying ON the bus -- while others depend on us for late night service.
Every day, Dennis Brown commutes on the No. 800 bus at 3 a.m. And every day, the bus rolls through 51st and Telegraph–a spot dear to Brown, a longtime Temescal resident. Get to know one of the intersection's most visible personalities in the story and audio slideshow below.
The 3 a.m. commuter
story and audio slide show are a part of News 21, a project of the Carnegie Initiative on the Future of Journalism. The interactive
Intersections: geographical and cultural crossroads in the Bay Area
showcases the diversity of the AC Transit service area, and beyond.
Learn more about AC Transit's
All Nighter Service
at ACTransit.org.
Audio slideshow courtesy of
Astrid Munn
, News 21 reporter and UC Berkeley Graduate School of Journalism student. She is a former copy editor/Spanish language reporter at the Lincoln Journal-Star at the University of Nebraska-Lincoln.